May 26th, 2011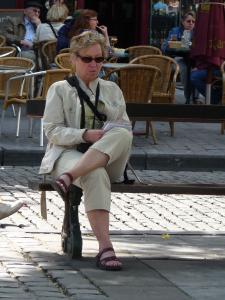 Here we are in Brussels for a couple days. wheather is great for sightseeing, and we have been discovering this beautiful city were chocolate, and lace not only in houseold accessories but also in the historical achtecture is a work of art. Also have been doing some sketching in pause sitting on a park bench resting the legs.
May 15th, 2011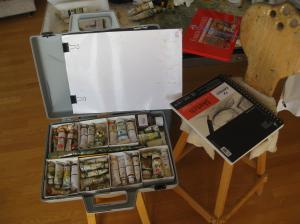 There is a time for everything and as departure is less than a week away, I have left the work in progress of my large painting... for it requires full attention... time to pause. I have closed my paintbox with the color tubes, paintbrushes, sketch book .. all the essentials and a little bit of extras for the treat. was hard to make a choice..Much emotion linked to this. My precious magic box is there waiting for the suitcase .. next time I open it will be in Dinan .
May 10th, 2011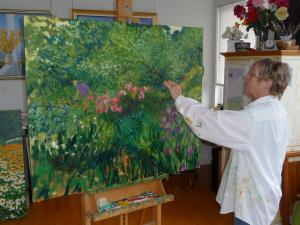 Spent much time in studio painting small pieces of the canadian prairies, still lifes, gradens and puttering with acrylics. Then had this urge to go on to large pieces again. There is something physical and emotional in the challenge of a large painting aside from the brushstoke.There is this presence in the unknown, there before you asking to be born that you are witnessing. ..bold and fascinating..
I had this large canvas onto which I had roughly sketched and it had remained stacked away for quite sometime. I pulled it out and turned it upside down to abstact the subject and go on to something new. I like doing this for it involves moving to new possibilities using part of the existing proposition already on the canvas... a letting go , to see with the mind's eye what is there to be revealed.a step by step into the unknown, trust into the guidance of the inspiration. this is a great feeling, a state of grace. Time of bliss and wonder..in the stillness of the now...time that belongs to eternity . A stepping into the mirror before you into the innerself. Pure magic, soul sustaining.
The painting is in progress. You can see a glimpse of this taking place on youtube http://youtu.be/53_QJUAro5w
hummm... love the smell of oil that lingers on in my studio..
May 4th, 2011
Been quite busy exploring with acrylic paint but can't say this is my piece of pie. .. Sure it dries faster which ca be an advantage when painting outdoors, but it will be summer ... and sometimes it dries too fast on the palette or on the paintbrush.. so I have decided to take along my oils. I want to enjoy this and not be an experience of frustration. Also I want to draw, skectch on the spot. Been doing a lot of this in the last couple months and really enjoy with ink so no erasing or correction. It is what it has to be. What an experience ! I went through a 100 page skech book.
Suitcases are open now and everyday new things are going in there. ..don't want the last minute rush.

January 23rd, 2011
I have a new project for this year. I wil be a guest at the Artist in Residence of the city of Dinan, France for the month of June. I will be at the Helen Jean Haffen's donation residence and studio. A local artist quite famous and who lived in Dinan til she died at the age of 96 in 1994. She donated her property for international artists to occupy and explore their creativity in a differnet environment than their own studio.
I have been working in oil for many years now but for the experience I will be using acrylic to shorten the drying process. will keep in touch of my experience. Looking forward to this.